AMPLATZER™ DUCT OCCLUDERS
STRUCTURAL INTERVENTIONS
Designed for flexibility, our innovative duct occluder options conform to a variety of duct sizes while achieving complete patent ductus arteriosus (PDA) closure from a pulmonary or aortic approach.
AMPLATZER PICCOLO™ OCCLUDER:

FOR PDA CLOSURE IN THE SMALLEST PATIENTS
The Amplatzer Piccolo™ Occluder, which delivers proven PDA closure for patients 700g and up, provides the strength to occlude small ducts, while minimising protrusion into surrounding pulmonary artery and descending aorta.4
Features include:
Extremely low-profile delivery—4 Fr catheter facilitates delivery in small vasculatures
Low-profile retention discs and end screw are designed to minimise protrusion into the aorta and pulmonary artery
Self-expanding device designed for closure of a PDA with length longer than 3mm and diameter smaller than 4mm
Symmetrical design for either pulmonary or aortic approach
Tightly woven, single-layer mesh design to minimise residual shunt after placement
Flexible delivery cable optimises deployment and allows for representative preview of device orientation prior to release
Predictable placement—disc size and shape designed for predictable positioning in the duct
Ability to be easily recaptured and redeployed for optimal placement7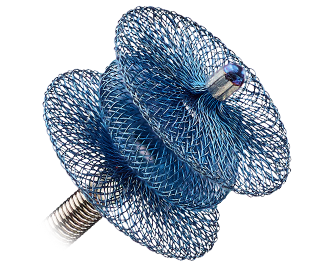 INDUSTRY-LEADING AMPLATZER™ PDA OCCLUDERS1
Amplatzer Piccolo™ is the only approved device specifically designed and indicated for PDA closure in premature infants. Only Piccolo™:

PICCOLO™
Has been developed for babies as small as 700gr and ≥ 3 days old

CLINICAL DATA
Has the most clinical data, proving excellent outcomes

SIZE
Offers the widest range of sizes, enabling treatment of most duct sizes

COMPATABILITY
Is compatible with infant size, offering a low profile device and delivery system

HOW IT WORKS:
Implanting Procedure
The Amplatzer Piccolo™ Occluder implanting procedure is a minimally invasive transcatheter procedure. A small incision is made in the groin for the delivery catheter to advance through the ductus. Once the proper position is located, the occluder is deployed firmly into the ductus. The occluder's size and shape is specifically designed to fit in the ductus of a premature infant to provide safe and effective PDA closure.
References
Data on file at Abbott.
Philip R, Waller BR III, Agrawal V et al. Morphologic characterization of the patent ductus arteriosus in the premature infant and the choice of transcatheter occlusion device. Catheter Cardiovasc Interv. 2016;87(2): 310–317. doi.org/10.1002/ccd.26287.
Schneider DJ, Moore JW. Patent ductus arteriosus. Circulation. 2006;114(17):1873-1882. doi.org/10.1161/CIRCULATIONAHA.105.592063.
Amplatzer Piccolo™ Occluder Instructions for Use.
Stout KK, Daniels CJ, Aboulhosn JA et al. 2018 AHA/ACC Guideline for the Management of Adults with Congenital Heart Disease: a report of the American College of Cardiology/American Heart Association Task Force on Clinical Practice Guidelines. Circulation. 2019;139(14):e698–e800. doi.org/10.1161/CIR.0000000000000603.
Baruteau A-E, Hascoët S, Baruteau J et al. Transcatheter closure of patent ductus arteriosus: past, present and future. Arch Cardiovasc Dis. 2014;107(2):122–132.
doi.org/10.1016/j.acvd.2014.01.008.
Data on File, 302350-001_G Amplatzer™ Duct Occluder CER.
Saliba Z, El-Rassi I, Abi-Warde MT et al. The Amplatzer Duct Occluder II: a new device for percutaneous ductus arteriosus closure. J Interven Cardiol. 2009;22(6):496–502.
doi.org/10.1111/j.1540-8183.2009.00504.x.
Gruenstein DH, et al. Transcatheter closure of patent ductus arteriosus using the Amplatzer™ Duct Occluder II (ADO II). Catheter Cardiovasc Interv. 2017;89(6):1118-1128. doi.org/10.1002/ccd.26968.